Alegria Fair Trade: Make Your Shopping Matter
Overwhelmed by labor abuse and problems in the world?
You connect with global artisans and farmers when you learn about economic justice & buy fairly made goods. We provide products and stories to make it easy.
** Click here for events. **
Join & Shop the movement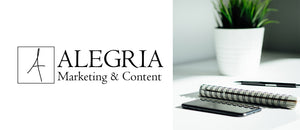 Alegria Marketing & Content Strategy: Clarify Your Brand
Do your people understand your cause or have you lost them in too many words?
We help you with branding and writing -- for social enterprise, nonprofit, and small business. 
Spread your mission
What is Alegria?
Alegria (ah-lay-GREE-ah) = Joy, in both Spanish and Portuguese.
By connecting with others and empowering people without power, we can create a little more joy in our lives and the lives of others in our communities and around the world.
Because everyone deserves a seat at the table.
Please join us!
Justice: Everyone deserves a seat at the table.